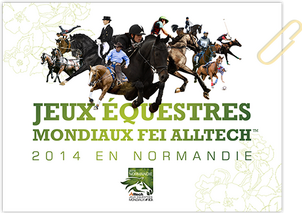 The Howrse Team is attending the World Equestrian Games in France, and are going to provide the community with commentary and feedback on the events.
49 members will have the opportunity to win some great prizes, and one lucky person will be able to join Howrse for the games. The contests ends on 25th June 2014 13:00.
To take part, you need to be over the age of 18, and answer 9 questions correctly and have the closest guess to the 10th.
Grand Prize
Edit
On the Thursday 28th of August:
Trip to France from your country
Transit to the Owlient office
Meeting with the Owlient team
Trip to Normandy
Hotel night and diner in Deauville
On the Friday 29th of August:
Trip to Caen
Access to the World Equestrian Game's Village
Entry to the freestyle Individual Dressage Grand Prix
Diner in Caen
Trip back to the hotel in Deauville
On the Saturday 30th of August:
Trip to Le Haras-du-Pin
Entry to the cross-country VIP village with brunch and champagne
Trip to Paris
Diner in Paris
Hotel in Paris
On Sunday 31st of August
Transit towards airport or train station
Trip from France to your country
Following 49 Prizes
Edit
The remaining winners will each receive one numbered lithography from Howrse
Ad blocker interference detected!
Wikia is a free-to-use site that makes money from advertising. We have a modified experience for viewers using ad blockers

Wikia is not accessible if you've made further modifications. Remove the custom ad blocker rule(s) and the page will load as expected.