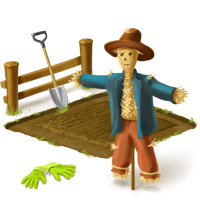 Grow beautiful vegetables and win plenty of nice gifts!
Until the 07/04/2013 05:00, grow vegetables to win plenty of nice gifts once you harvest them!
You receive seeds by completing actions throughout the game.
You can then plant the seeds and nurture them until they are ripe and ready to be harvested.
At that point a gift chosen at random among the list of items the plant can produce is given to you once you've harvested the vegetables.
You could even grow a pumpkin and get Skeiron the new Wind Divine horse!
You can complete missions that'll allow you to progress faster or access new vegetable patches all along this contest.
During this contest closely watch the inserts from the game or on the contest's page.
They will tell you what special offer linked to the Vegetable Garden Contest is currently available on the game.
You'll even have to possibility during some of these offers to earn the Automatic Sprinkler thanks to Horns of Plenty.
The Automatic Sprinkler waters the vegetable patch you place it on without requiring any intervention from your behalf. It also doesn't use the water stored in your water tank.
Ad blocker interference detected!
Wikia is a free-to-use site that makes money from advertising. We have a modified experience for viewers using ad blockers

Wikia is not accessible if you've made further modifications. Remove the custom ad blocker rule(s) and the page will load as expected.