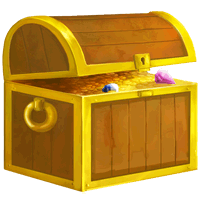 Until the 03/11/2013 02:00, you can find the Lavradeiro Wild Horse inside the Treasure Chests!
The Treasure Chest is much more powerful than the Horn of Plenty!
Every time you open one, you'll find Black Market items and Equus. You may also find diamonds and aging points.
And of course for this limited time offer you get your own Lavradeiro Wild Horse!
To get a Treasure Chest, simply go to the Black Market and buy the item against 12 passes.
Ad blocker interference detected!
Wikia is a free-to-use site that makes money from advertising. We have a modified experience for viewers using ad blockers

Wikia is not accessible if you've made further modifications. Remove the custom ad blocker rule(s) and the page will load as expected.