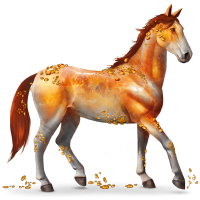 Equip horses and get them noted by the Howrse Jury!
Until 08/29/2013 05:00, take part in the Horse Parade contest!
Everyday an admirer lends you a horse. You then have 5 days to equip it; saddle, bridle, bandages, and more.
Once the horse has his gear on, you have to present him to our two very professional and impartial jury members: Mrs Majowska and Mrs Lowshen!

They will give a note for the horse that will earn you points that can be converted into gifts.

There are various ways to get equipment and to get bonus points to add to your horse's tally. Simply go to the contest page to learn more.

Among the horses that will be lent to you you'll find Amber, the latest Divine horse from the Gemstone series!

To keep Amber in your stables once the contest is over, you will need to equip him with Golden equipment before the end of the contest!
We hope you'll enjoying pairing up equipment to get the most points out of your combinations!
---
heres a stub artical here.
Ad blocker interference detected!
Wikia is a free-to-use site that makes money from advertising. We have a modified experience for viewers using ad blockers

Wikia is not accessible if you've made further modifications. Remove the custom ad blocker rule(s) and the page will load as expected.