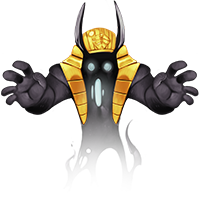 Become an adventurer by excavating the Howrse archaeological site and gathering Osiris' bones!
You have been tasked with finding and assembling Osiris' skeleton and you have until the 10/31/2013 06:00 to complete this important mission.
You will have to excavate on the Howrse archaeological site to find buried treasures, relics and of course a few bones!
Don't forget to try and upgrade your tools thanks to relics; excavating becomes a breeze with a jackhammer!
You might even be able to get your hands on a few sticks of dynamite during the contest …
Along your path you may meet a few angry spirits or ghosts that will try to pull a trick or two.
You can counter the effect of their little jokes by completing missions.
To find out more about the contest take a look at the Cursed Sands Contest page!
---

also look out for these cool ufos that have been spoted around the site :)
-gift chest-

-Gives relics-
-Gives Bones-
Ad blocker interference detected!
Wikia is a free-to-use site that makes money from advertising. We have a modified experience for viewers using ad blockers

Wikia is not accessible if you've made further modifications. Remove the custom ad blocker rule(s) and the page will load as expected.