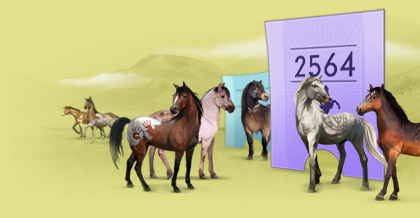 Starting now and until the 21th of September at 10:00 game time, try your luck at getting a different Wild Horse each day in the Lottery!
Each day the wild horse you can win in the Lottery changes, you could get lucky and maybe win your own wild horse!
This may be your chance to get the wild horse you have always dreamed of!
To see what wild horse is up for grabs today, check out the Lottery Page!
Discover the latest arrival in the wild horse family!
(c) howrse
the big prize is a Kaimanawa
Ad blocker interference detected!
Wikia is a free-to-use site that makes money from advertising. We have a modified experience for viewers using ad blockers

Wikia is not accessible if you've made further modifications. Remove the custom ad blocker rule(s) and the page will load as expected.