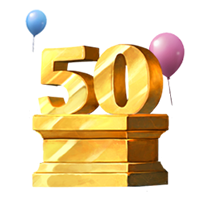 Howrse has reached the incredible amount of 50 million registered users across all of its versions!
Of course this would never have been possible without you. That's why we would like to extend our deepest thanks to you for the loyalty and enthusiasm you show for Howrse.
To celebrate this achievement special 50 million UFOs have been freed on the game until the 07/07/2013 14:59.
Each one contains a gift so don't miss them when you come across one!
To conclude this week long festivity, the 07/07/2013 09:00, we will be holding a giant lottery draw between all the versions of Howrse.
Every player that will have caught at least one of the special 50 million UFOS will be automatically enrolled in this giant lottery draw.
A single player will win and incredible gift called the: 50 million privilege.
This privilege offers its owner 50 000 equus each day during 1000 days!
On top of that each of the players from the version where the winner comes from will get a Daphne's Laurel.
(c) howrse
Ad blocker interference detected!
Wikia is a free-to-use site that makes money from advertising. We have a modified experience for viewers using ad blockers

Wikia is not accessible if you've made further modifications. Remove the custom ad blocker rule(s) and the page will load as expected.