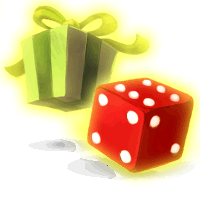 Get gifts for your Christmas tree and bonus die rolls thanks to the Elven Packs in the Black Market on Howrse!

Until the 24th of December you can buy Elven Packs in the Black Market for 1 pass!

Each Elven Pack holds a random gift amongst the 3 following types:

-Small gifts
-Great gifts
-Exceptional gifts

They will go and add themselves to the gifts under your Christmas tree that you have already gathered from the Magic Ride!

The Elven Pack also contains 2 bonus die rolls to help you progress faster in the Magic ride Contest!

This is a limited time offer so don't wait!

Also note that the gifts inside the great gift have been improved:
Croesus' Fortune becomes a Zeus' Lightning Bolt
Medusa's Blood becomes a Helios' Ray
Ploutos' Parchment becomes a Golden Apple
Merry Festive Season!
(c) howrse 
Ad blocker interference detected!
Wikia is a free-to-use site that makes money from advertising. We have a modified experience for viewers using ad blockers

Wikia is not accessible if you've made further modifications. Remove the custom ad blocker rule(s) and the page will load as expected.