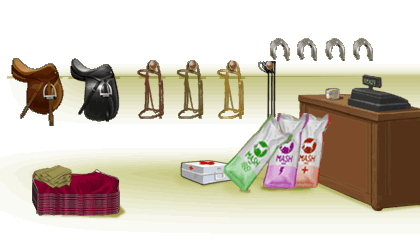 Classical Saddles and Bridles

1* Classical Bridle - 100-200 equus. Price varies.
2** Classical Bridle- Price varies
3*** Classical Bridle- Price varies
1* Classical Saddle
2** Classical Saddle
3** Classical Saddle

Western Bridles and Saddles

1* Western Bridle - Price varies
2** Western Bridle - Price Varies
3*** Western Bridle - Price varies
1* Western Saddle
2** Western Saddle
3*** Western Saddle

Saddle Cloths:
Polo Wraps
Ear Bonnets
Hen - 400 equus ~retired~
Monkey - 500 equus ~retired~
Rabbit 1000 equus ~retired~
Zebra - 1500 equus ~retired~
Swallow - 2500 equus ~retired~
Cat - 5000 equus ~retired~
Phoenix - 5 diamonds ~retired~
Griffin - 12 diamonds ~retired~
You can still purchase horses that have companions: however, they may cost lots of passes.
Seahorse  As of the June 2013 update, the seahorse and Eolus' WInd have been altered. The seahorse is now gone, and has been merged with the Eolus' WInd so it now gives a +4 dressage bonus as well as the other bonuses. Owners of the Pegasus Account now get unlimited free Eolus' Winds insted of seahorses
As of December 2013, These items can now be bought with Equus instead of Diamonds.
Daphne's Laurels -  3 diamonds As of the July 2013 update, Daphne's Laurels are now Bell Boots
Eolus' Wind - 5 diamonds As of the July 2013 update, Eolus' Wind is now the Whip
Golden Spurs - 6 diamonds As of the July 2013 update, the Golden Spurs are now Spurs
Boreas's Lunge - 9 diamonds As of the July 2013 update, Boreas' Lunge is now the Lunge