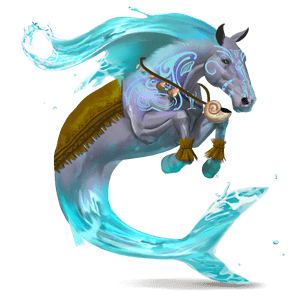 Tangaroa 
is one of the Māori horses.
Tangaroa has a tiki you must fill with mana.
For that, you need to observe 3 turtle nests per day. And find out if there are any baby turtles:
1x turtle = 5 x mana
2x turtle = 20 x mana
3x turtle = 80 x mana
When the tiki contains 800 x mana, Tangaroa will give you a gift of 1x Water element . This horse cannot be sold.
Ad blocker interference detected!
Wikia is a free-to-use site that makes money from advertising. We have a modified experience for viewers using ad blockers

Wikia is not accessible if you've made further modifications. Remove the custom ad blocker rule(s) and the page will load as expected.