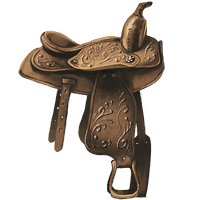 This saddle is great for Western competitions. Its quality is average but it is a good choice for tight budgets.

Bonus:
Stamina: +1
Speed: +1
Dressage: +1
Gallop: +1
Trot: +1
Jumping: +1
<center>Official Description
The 1* Western Saddle is the poorest-quality saddle, but the cheapest. It costs around 530 equus.
This item was formerly called WL saddle. The information for the old version is as follows:
The WL saddle is ideal for Western competitions. It's of modest quality, but is accessible to players with small budgets.
It provided the following bonuses:
Stamina: +2
Speed: +2
Dressage: +2
It costed 600 equus in the store.
Ad blocker interference detected!
Wikia is a free-to-use site that makes money from advertising. We have a modified experience for viewers using ad blockers

Wikia is not accessible if you've made further modifications. Remove the custom ad blocker rule(s) and the page will load as expected.