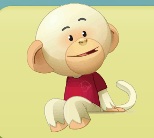 Ow the Monkey is the mascot of Owlient. He helped new players learn how to play Howrse through tutorials in the old version (he has been replaced by Emma in the newest version of the tutorials). These tutorials give items, virtual money, and new horses to the players participating in them.
Ow cannot be messaged, however she can be added as a friend. She is a real person, who'll gladly interact with players from time to time. Ow is part of the administration team, with other actual employees of Owlient such as BOwer, ScarecrOw, and so on.
She and the admin team select the moderators of the game.