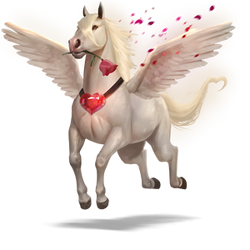 Je t'aime
 is a divine horse who is the patron of love.
Je t'aime will give you 2 x Diamond on the 14th of each month (after the daily update), provided you logged in at least once over the previous 3 days.  During the month of February, you have the option of giving away your Je t'aime to one of your friends.
Ad blocker interference detected!
Wikia is a free-to-use site that makes money from advertising. We have a modified experience for viewers using ad blockers

Wikia is not accessible if you've made further modifications. Remove the custom ad blocker rule(s) and the page will load as expected.