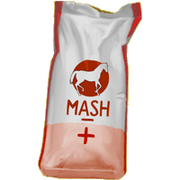 Health mash is a food supplement that increases your horse's health by 10%. It can be very useful for helping horses regain their shape.
However, it is only possible to give a horse one mash every three days, to make sure the extra energy doesn't upset its health!
Health mashes are only provided by Equestrian Centers.
Careful, this mash can never be given to a horse under 2 or over 25 years old.
This mash no longer exists. The three mashes are now combined.
Ad blocker interference detected!
Wikia is a free-to-use site that makes money from advertising. We have a modified experience for viewers using ad blockers

Wikia is not accessible if you've made further modifications. Remove the custom ad blocker rule(s) and the page will load as expected.