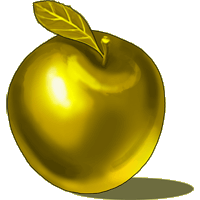 Customize your horse and choose a new coat designed by other players. These coats are quite often magnificent, don't be afraid to check them out!
This item will give the horse bonuses:
Stamina: +5
Speed: +5
Dressage: +5
Gallop: +5
Trot: +5
Showjumping: +5
The Golden Apple is a Black Market item that allows you to customize your horse's coat. Any horse or pony over the age of 1 year and 6 months old can use the Golden Apple. Divines, Special, and Wild horses are not able to use this item.
The Golden Apple gives you a series of coats depending on the species of your horse. If you have a pony, only coats designed for ponies will show. The same is applied to unicorns, pegasi and regular horses.
---