Divine Horses are rare, special horses, given or sold for passes as a promotion. Divines also usually have their own special effect.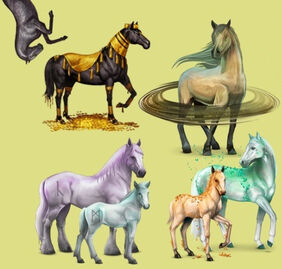 One of A Kind
Edit
Other Divines
Edit
Female Divines With Limited Reproduction Abilities
Edit
These female Divines are able to give birth to another divine horse, but only once.
The Mother and Father of All
Edit
Water Divines
Edit
Most Water Divines are horses that can switch their skills around. Their skills change each day. One day they are great at speed, the next day they have great stamina... However, the different variations of Snow Divines are born with a skill set that makes them perfect for a certain competition. One might be great in Gallop races, and another Snow might be perfect for Show-Jumping.
Gemstone Divines
Edit
There are ten Gemstone divines. Their skills (for the most part) are able to be increased using diamonds.
Solar System Divines
Edit
The Solar System Divines were introduced April 19th, 2012 as a reward for the Painting Event. The 10 "Masterpieces" with the most pixels were rewarded with Saturn, the first known Solar System Divine. During this Event there were also 65 sold in Flash Sale Auctions, and the Masterpieces over 80 pixels and the top 10 in votes from the community also recieved Saturns.
Wind Divines
Edit
Season Divines
Edit
Chinese Divines
Edit