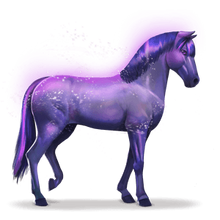 Devoted Indigo is a divine horse that is part of the Horses of the Rainbow.
He gives you one diamond every Saturday (after the daily update), provided you logged in at least once over the previous 3 days.
VIP: Energy consumption for dressage or trail class competitions on Saturdays is cut in half.
This horse cannot be sold.