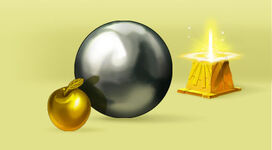 The Creation Space is a place where you can propose illustrations to be used on Howrse and win prizes if they beat the vote. These illustrations may be horse coats for the Golden Apple or landscapes for the Helios' Ray. You must buy a Black Pearl  from the Black Market in order to submit your illustrations.
The Creation Space is for all languages (English, German, French...). That means if you propose an illustration and it wins the vote, it will be available in all languages. If you are successful and your illustration is selected, you will be rewarded with Equus and Passes!
The Creation Space can be found under the Community tab.
Ad blocker interference detected!
Wikia is a free-to-use site that makes money from advertising. We have a modified experience for viewers using ad blockers

Wikia is not accessible if you've made further modifications. Remove the custom ad blocker rule(s) and the page will load as expected.