Coat ColorsEdit
| Coat Colors | Percent |
| --- | --- |
| Bay Blanket | 9% |
| Bay Snowflake | 9% |
| Bay Spotted Blanket | 10% |
| Black | 1% |
| Black Blanket | 9% |
| Black Leopard | 12% |
| Black Snowflake | 1% |
| Black Spotted Blanket | 3% |
| Chestnut Blanket | 14% |
| Chestnut Leopard | 9% |
| Chestnut Snowflake | 3% |
| Chestnut Spotted Blanket | 11% |
| Dun Blanket | 3% |
| Dun Spotted Blanket | 2% |
| Few Spots | 1% |
| Palomino Blanket | 6% |
| Palomino Spotted Blanket | 2% |
Skill InfoEdit
| Skill | Percent |
| --- | --- |
| Stamina | 61% |
| Speed  | 90% |
| Dressage | 70% |
| Galloping  | 80% |
| Trotting | 20% |
| Jumping | 42% |
International server
USA server
Australia
Other Game InfoEdit
Around the time of 2008-'09, all of the howrses underwent new coat styles. In the spring of 2010, they participated in another change.
Size: from 14.2 hands to 15.2 hands
Real Info
Edit
The Appaloosa is an American horse breed known for its distinctive physical characteristics, most notably its spotted coat. Originally bred by the native Nez Perce tribe, the breed takes its name from the Palouse River that ran through Nez Perce territory. It is considered the first official American horse breed.
While there is evidence of leopard-spotted horses dating back to the Paleolithic era in Europe, the Nez Perce people developed the breed in America. Appaloosas were once referred to by white settlers as the "Palouse horse", but gradually, the name evolved into "Appaloosa". The Nez Perce lost most of their horses following the Nez Perce War in 1877 and the breed fell into decline for several decades. However, a small number of dedicated breeders kept the Appaloosa alive until a registry was formed in 1938. Today, the Appaloosa is one of the most popular breeds in the United States, and it was named the official state horse of Idaho in 1975.
They are good at barrel racing in western competitions.
Old Version look
Edit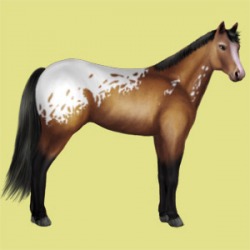 Ad blocker interference detected!
Wikia is a free-to-use site that makes money from advertising. We have a modified experience for viewers using ad blockers

Wikia is not accessible if you've made further modifications. Remove the custom ad blocker rule(s) and the page will load as expected.