This bridle is cheap and the perfect choice for Western competitions.
1* Western Bridle is the cheapest Western bridle available in the regular store.
It provides the following bonuses:
Stamina: +1
Speed: +1
Dressage: +1
Gallop: +1
Trot: +1
Jumping: +1
Its cost ranges from around 180 to 220 Equus.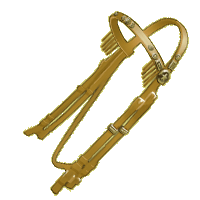 This bridle was originally called Bridle BL. Its information is as follows:
A real bargain, the bridle BL is perfect for Western competitions.
It gave the following bonuses:
It costed around 200 Equus.
Ad blocker interference detected!
Wikia is a free-to-use site that makes money from advertising. We have a modified experience for viewers using ad blockers

Wikia is not accessible if you've made further modifications. Remove the custom ad blocker rule(s) and the page will load as expected.